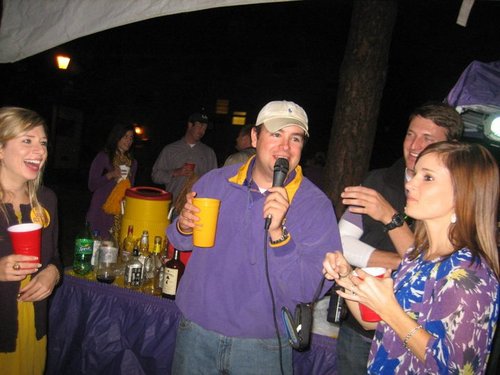 UL-Funroe Tailgate
Tomorrow we'll be at the spot bright and early, rain or shine as always.  What else do you really have to do in the morning other than come sit under the tent, kick back with a bloody or a mimosa, with the fans blowing across your face,  2 tvs hung in the air thanks to Bo Staples, and enjoy the sights and sounds of our beautiful campus?  Only 6 more times to do this until next year, folks.  Might as well maximize your tailgate.  And get a great parking spot.
Team 2 is setting up at 8am and they're rumored to have something special setup for the kids.  The food is being led this week by TJ Woodard and we're happy to announce that this is our annual FRY GAME.  We're rolling the double barrel deep fat fryer out and if its edible, its getting battered and dropped (however we DO NOT do this in support of Ray Rice).  We're also featuring a special entree this week courtesy of Matt Thomas that we've never had in our 8 years of tailgating – Frog Legs!
Entree's:  Chicken Wings and Frog Legs tossed in Buffalo, Parmesean, and BBQ sauces
Apps:  Mushrooms, Pickles, Boudin Balls, French Fries and anything else we can batter up.  Oh, and a TUB OF RANCH.
The diets start Monday, folks.  Hope to see y'all out there.  Bring the kids.  Geaux Tigers!

SAM HOUSTON STATE TAILGATE
The first home game of the season is upon us.  It's been a long off season and we can't wait to get back to campus and see everyone again.  We've made a few upgrades to the tailgate this season that we're sure you're going to like.  As always we will be out there bright and early.  Team 1 will be setting up at 8am and we plan to rock all the way until midnight.
The new "Food Committee" is happy to announce the first menu of the season.  Rory Lato is the head chef for week 1 as he's providing the entree', Smoked Brisket, for the tailgate.  The menu:
Smoked Brisket, Baked Beans, Mac & Cheese & Potato Salad
Appetizers: Boudin Balls, Hot Sausage, Chips & Dip
If you take photos at our tailgate this year and post them to Instagram be sure to use the hashtag #pgatailgate and your photo will post right to this site (you can view them all on the left).
We hope to see everyone out there early tomorrow.  Geaux Tigers!
Pictures will be uploaded soon.  If you have any, please email them to pgatailgate@gmail.com
The Houston Kickoff Party was a huge success as over 500 people attended and had a great time.  Cajun Traditions Catering provided more than enough delicious food to keep everyone happy, Dan Borne rocked the patio, and Lawson and staff at the Capitol Bar provided an awesome atmosphere for us while keeping the drinks flowing.  We can't say enough how much fun we had there – when the Tigers go back to Houston, you can bet we'll be back with our friends at Capitol Bar!
Thanks to all who attended.  Give us some feedback on the event.  What did we do right, what can we do to improve these parties in the future, etc.  We hope you all enjoyed it, and look forward to seeing y'all across from the indian mounds!
UPDATE:

SOLD OUT!!!
At this time we have decided to stop selling tickets for the party due to high demand and potential space limitations.  Half of the bar is an outdoor patio and with the weather forecasting 80% chance of  thunderstorms we will not be allowing anyone else to purchase tickets at this time as the inside space is limited.  We will be monitoring the weather closely and if the forecast changes we will be selling walk up tickets at the door.  Thanks to everyone for their interest and helping us sell out yet another party!
Click KICKOFF PARTY For Details!
http://youtu.be/QR-C22EB930
Fox Sports Southwest and Bud Light's "Tailgate Rivals" TV show was on hand at the Florida tailgate to film us doing what we do best.  We're going up against tailgaters from around the country to win tailgate prizes and the title of Ultimate Tailgaters.  You can vote for us by clicking on the link below and clicking the vote button – a bunch of times.  As many times as you click that's how many votes we get.  We're in 3rd right now (which allows us to add a second TV next year) but 4th is coming on strong.  We need all the votes we can get.
http://tailgaterivals.com/ultimate-tailgater/rhett-from-lsu/?age-verified=d55a800c36
After 6.5 years Manda Fine Meats has finally decided to quit playing coy with us and give us our title.  On Saturday Oct 12 PGA was recognized on the radio as being Manda's Tailgaters of the Game for the Florida game.  Was our picture shown on the big screen in the stadium?  Who knows with all the ads.  But its good to get a little recognition.  We inquired about being tailgaters of the game every game but in today's "participation trophy" society that's just not possible.  We did inform Manda that if "The Do It Big DJ's" were EVER named tailgaters of the week that we would move exclusively to Savoie's.  That is not an empty threat.  We are prepared to do what is right.
We're back.  Website got shut down for a while and we lost everything.  Not going to point any fingers here or anything but let's just say if Delucca didn't cancel the tailgate credit cards without telling anyone this wouldn't have happened.  We'll have the photos and videos and all the other sections all back up in the next day or so.